Putt on over to Family Fun Town's fantastic 18 hole mini golf course.
Our cleverly designed course will captivate all ages and keep you on your toes through the entire game. The tranquil blue water fall and fountains are a lovely landscape. With rolling greens and the realistic sand traps you will be compelled to continue on through our challenging course. Once you have reached the cascading waterfall, your half way through. Cross over the bridge, but watch out don't let your ball roll in the stream, the goal is to stay on the green!
The mini-golf course is challenging yet rewarding. Most importantly, it will provide an exciting and fun experience for your whole family day or night…the course is completely lit for a unique night play experience. The course is also a great idea for your next birthday party or any group play.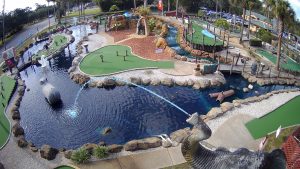 Be sure to ask a Family Fun Town associate about our spectacular Birthday Party specials!
Pricing
Adults (Ages 13-54): $10.00
Seniors (Ages 55+): $8.00
Children (Ages 5-12): $8.00
Children 4 and under free with paying adult.